November 26, 2019
How artificial intelligence is changing the confectionery business?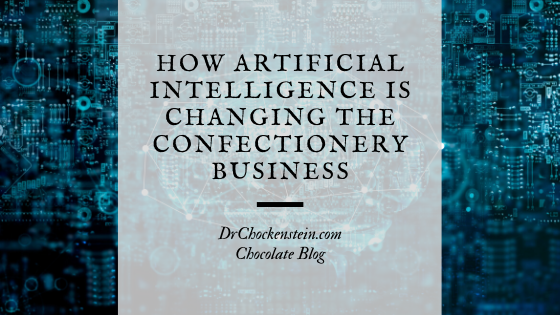 How artificial intelligence is changing the confectionery business

Artificial intelligence has become the talk of the town nowadays. It is changing the way businesses operate for the better and many of them have started to incorporate the technology in their businesses.
According to a MCKinsey report, Google and Baidu spent over $ 20 billion and $ 30 billion on AI in 2016 from the acquisition of AI machines, investment in the technology, and its deployment. The latter statistics show that businesses and industries are ready for the adoption of this technology ranging from multinationals to small-scale chocolate businesses.

What is artificial intelligence?

Before we venture on how this technology is changing the confectionary business, let us understand what it means. Abbreviated as A.I, artificial intelligence applies computer software to engage in human activities.

The computer software is incorporated into different technologies from automation, machine learning, machine vision, natural language processing, robotics, and self-driving cars. The technologies have multiple applications in different sectors from manufacturing, finance, businesses, etc. With the latter understanding, let us learn about confectionery businesses

What is a confectionery business?

Confectionery business deals with the production of food items rich in sugar and carbohydrates. Chocolatiers and Candy Makers such as us are considered confectioners. Confectioners make anything from Candied Nuts, Taffy, Chewing Gum, Chocolates, Caramels and Hard Candies.

How Artificial Intelligence is changing the confectionery business.

1. Sorting quality ingredients.
If you are running a confectionery business, it is mandatory you use quality ingredients certified for personal use. That calls for sorting out of foreign material in food, and the ingredients you will use. A good example is with potatoes. You will need to select ones that could make fries or potato chips. Sorting out food is a complex process for not only large businesses but also smaller ones.

Businesses are adopting the use of AI technologies in the sorting out process. They are making use of sensors based optical solutions. The great news is that they have machine learning capabilities and will sort out food in a similar manner that people could do.

2. Meeting Their Supply.

Supply is a crucial part of any confectionery business. However, there are regulations set to ensure food is safe when packed and on transit. The use of robotics in the supply chain and machine learning ensures food testing in all parts of the supply. Packaging will thus be done accordingly. Moreover, businesses and consumers will be able to track the food on transit knowing their location and estimated wait time for arrival. It will provide transparency.

Another AI technology that has the promise to change the confectionery industry is self-driving cars. They will be able to deliver products to consumers anytime. Since drivers cannot drive for 24 hours, its adoption will increase the confectionery industry market value.

3. Generation of Market and consumer insights.

Understanding the market and consumer trends are vital for any business, and the confectionery one is no different. Moreover, since anyone could set up one successfully from home, it tells you, how competitive the industry is.

Growth is thus dependent on a careful analyzation of the market, consumer insights, and trends. Many businesses are leveraging AI technologies in this. From the power of machine learning, robotics, and natural language processing, business tap data to predict consumer and market behavior.

New industries entering this market are able to generate insights and data that will help them explore the available profitable opportunities. They can as well engineer new solutions that propel business growth. Not to mention, they're being able to reduce marketing expenditures via optimization of market strategies.

With machine learning, confectionary business is now able to eliminate likely from unlikely clients from their lists. They are also able to seed out serious suppliers to do business with. Not to mention, the study of the different aspects of the business will enable them to learn when the market is facing uncertainties.

4. Helps In Warehouse Management.

A warehouse is an important asset in any confectionery business. Whether it is a small one or big one, machine learning is one of the Artificial Intelligence technologies that has been helping businesses with proper warehouse management.

If you run chocolate supplies for the day, you will need this data to determine if you will be able to meet next's day deliveries. Nonetheless, it is sometimes daunting to ascertain overstocking or understocking in a warehouse in a limited time span, which can be disastrous in any business.

However, with the power of Artificial Intelligence, many confectionery businesses use forecasting engines to determine instances of overstocking and understocking. They leverage other AI technologies like robotics, big data, and computer vision for this. They can track supplies delivered and predict how much supplies are remaining.

5. Development of new products.

While the focus on AI has been in the logistics sectors, many confectioneries, as well as other food businesses, are starting to adopt it in the development of new products based on consumers' insights.

According to a post published on the Wall Street Journal, food companies are starting to adopt AI in their recipes. They are leveraging consumer data to develop new flavors and products based on consumer needs. These range from Pizza, chocolate (Just to mention a few). Companies such as MC Cormick & Co, Conagra Brands Inc., and Pepsi Inc. are adopting the use of AI to engineer new cooking concepts.

Some AI companies are also helping businesses develop new products and flavors out of consumer insights. Gastrograph AI is one of such companies. They are using machine learning as well as predictive algorithms in the determination of the way consumers will react to new flavors.

In conclusion, Artificial Intelligence has many applications in different industries. The technology coupled with other innovations could bridge the gap between small businesses and large ones.