May 09, 2018
Now This Is How You Pair Beer And Chocolate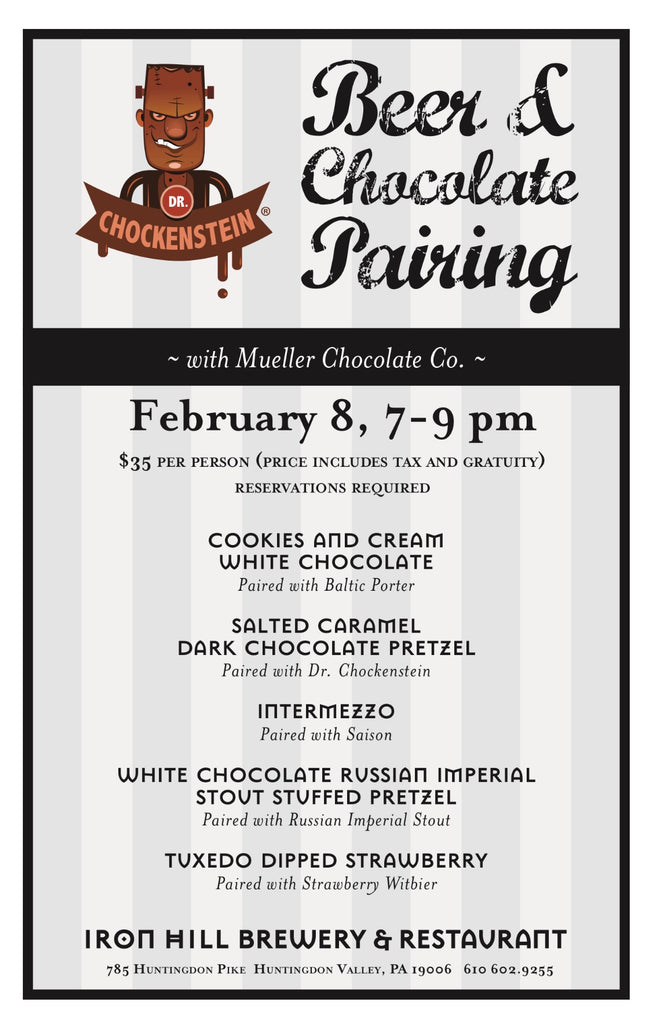 We've Teamed up with Iron Hill Brewery for our second annual Chocolate and Beer pairing dinner in conjunction with the release of our Signature Seasonal Beer The Dr.Chocokenstein® Chocolate Stout. 
This year we year we will be pairing a White Chocolate Cookies and Cream bark with Baltic Porter
Our Infamous Dark Chocolate Sea Salt Caramel Pretzels Paired with the Dr.Chocokenstein® Chocolate Stout served on Nitro for a exceptionally Chocolatey, Caramel , sweet and savory pairing with a very smooth mouth feel. 
An Intermesso served with Saison
We will be making a very special Ganache out of Iron HIll's Most award winning Beer , The Russian Imperial Stout. Then we will be stuffing a pretzels and Coating it in white chocolate. 
To end the Pairing and we prepared for Valentines day, we will be making a Tuxedo Dipped Chocolate Strawberry feating our blend of Dark and White chocolate paired with Strawberry Wibier.