March 13, 2020
What Sweets Can You Eat on Keto?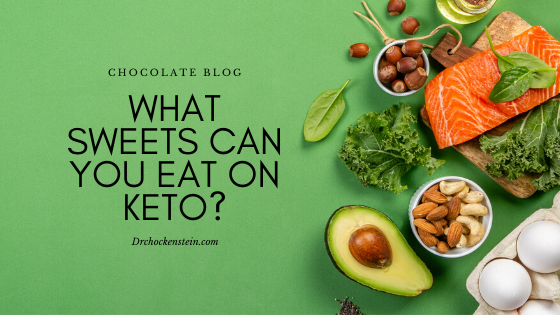 What Sweets Can You Eat on Keto?
The Keto diet has seen a stark rise in popularity in recent years. Short for ketogenic, the keto diet is a low carb, high fat diet that is designed to cause ketosis in order to promote weight loss and lower blood sugar levels. It is not the easiest diet to follow and requires strong discipline, especially for those with a sweet tooth. Fortunately, there are many sweet treats that can be enjoyed while adhering to a keto diet. Read on to learn about some tasty snacks and deserts that you consume without guilt while trying to lose weight.
Flourless Cake
Cake is a universally loved desert, but it is unfortunately quite high in carbs and sugar which makes it a disaster for keto eaters. The good news is that you can make cake without flour – the main culprit for the high carb count. By using eggs, salt, butter, and a sugar substitute, you can make a delicious chocolate cake that contains high levels of fat and protein but keeps you safe from an overload of carbs.
Lemon Curd
Lemon curd is a versatile treat that can act as a spread for many bases. Containing only lemon, eggs, butter, and your favorite sugar substitute, this pudding-like citrus spread goes perfectly on keto toast, flourless cakes, and even ice cream. You don't need any of these things to enjoy it though – lemon curd is delectable and filling straight out of the jar!
Coconut Flour Cookies
Most cookies are made with regular flour, rendering them unsuitable for a keto diet. Fortunately, plain white flour is not the only type out there, and substitutes have become abundant thanks to keto's rising popularity! Coconut flour is one of our favorites, and it makes for a unique and tasty cookie that should satisfy your sweet tooth. Use your favorite chocolate chip cookie recipe but substitute coconut flour for the regular flour and you'll have some of the best cookies you've ever made!
Chocolate, Chocolate, Chocolate
If you don't have time to bake or look for sugar substitutes and fancy flours, there's one easy sweet treat that will always be keto – chocolate. Keep in mind that you'll need to stick to dark chocolates, but options abound when you go with this age-old, healthy, and delicious snack.
Try to look for chocolate bars and treats that use higher levels of pure cacao. They will be a little bitter but should still be sweet enough to satisfy your cravings. While some will contain a little bit of sugar, you just need to make sure that they have higher protein and fat levels than they do sugar. Stay away from highly processed milk chocolate or white chocolate products as those contain high levels of sugar.
Baking chocolate is an excellent purchase, as it is usually quite pure and can be added to any of your favorite keto treats. Try melting or grating some chocolate and adding it into your keto versions of milkshakes, cookies, cakes, and more!