October 20, 2019
Why chocolate should not be refrigerated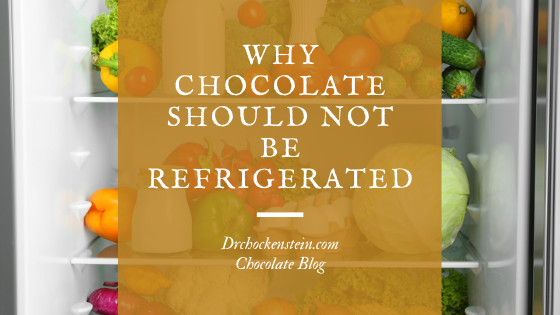 Why chocolate should not be refrigerated
One of the most frequent questions we hear is, should I keep this box of chocolate in the fridge? It's a good question and a logical question. Most chocolate gets sold from a refrigerated showcase. No one wants their chocolate to melt, so; naturally, it seems reasonable to store it in the refrigerator.  
There are several reasons why chocolate should not be refrigerated, and we will go through them here. 
The refrigerated showcases you purchased your delectable treat are not the same as the refrigerator in your home. Chocolate Showcases have specialized systems that do not add moisture or humidity to the case. The fridge in your home doesn't have a low humidity feature because not many people are storing chocolate in their kitchens. The reason the humidity factor is essential is that chocolate has two natural enemies. Temperature and moisture ruin chocolate. When chocolate gets exposed to unrelenting humidity in the home refrigerator, the chocolate will start to accumulate the moisture on its surface like the morning dew.  

The refrigerated case you purchase your chocolates from is only used for chocolate, candy, or nuts. All of these items smell appealing. There should be no other smells then chocolate, sweet or nutty in a retail chocolate showcase. The home refrigerator is a different story. Leftover meatloaf, Italian hoagie, and Chinese food often linger in the home refrigerator way longer then they should. You may not notice the aroma of these savory leftovers, but your chocolate will. Chocolate picks up odors from where it is stored. Think about giving your sweety a box of chocolate that smells like meatloaf — not a good thing. 

Chocolate begins to melt at around 72 degrees, which is on the higher end of "Room Temperature." The home refrigerator is usually set between 37-40 degrees. That is a 30+ degree range of unnecessary refrigeration. This amount of cooling is not necessary to protect chocolate. It may be a matter of preference if you like your chocolate cold and hard, though, but it is not essential and exposes the chocolate to moisture, odors. 
For most chocolates, you can keep them at room temperature. You should be very mindful to not expose chocolate to heat and moisture. Never store chocolate in front of a window that gets direct sunlight. Avoid storing chocolate on or near a home radiator or heater. Avoid keeping chocolate in the trunk of the car if the temperature is above 70 degrees outside.