October 23, 2019
Will chocolate melt in the mail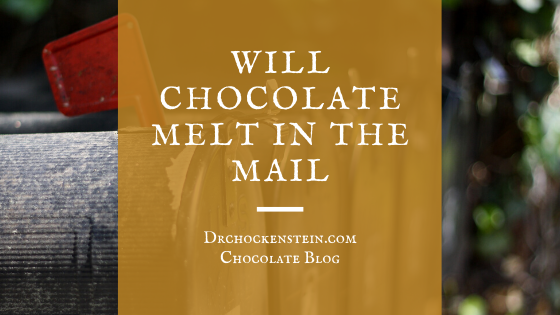 Chocolate makes a great gift for just about every anyone — their arent many people who don't like chocolate. Chocolate gifts are customizable for any occasion. Chocolate is lighthearted and warm and lets the recipient know you care about them. Naturally, many people wish to send chocolate gifts to loved ones in the mail, but wonder if it will the delivered chocolate will arrive in good shape.
Will chocolate melt in the mail? 
There are no gaurantees for mailing anything, especially chocolate. Here are some variables to take into consideration when deciding to mail chocolate. 
Temperature: Chocolate begins to melt at around 72 degrees. At this temperature, the chocolate won't turn into a liquid, but the finish will be vulnerable to fingerprints, smudges, and rough handling in the mail. Any temperature above 72 degrees is not safe to mail. Checking the weather for where you will be mailing chocolate from is a great first place to start. If its cold (below 70 degrees), then it might be a great idea to send chocolate. If it's warm (above 72 degrees), you might want to send something like fudge or candy. 
Don't forget to check how long it will take for your package to arrive in the mail. Chocolate can not only melt sitting in the post office, but it can melt on a truck, plane, sitting on the porch of the recipient's home. Check the weather in the city or town you are mailing to aswell. 
In the hot summer months, you will need to add an extra layer of protection in the form of an ice pack. Ice packs work great, but they also melt and stop keeping the chocolate fresh. The other problem with ice packs is after they melt, sometimes they can leak. There's nothing worse than receiving a refrigerant gel-covered box of chocolate in the mail.
Conclusion: Temperature is an important consideration when shipping chocolate. However, it's not the only thing to think about. The way you package your chocolate can also help ensure that it arrives in good condition. We've shared some tips on how to package and ship chocolate, but if you have any questions or need more assistance, please don't hesitate to reach out to us. We would be happy to help! You may also need to know how to Store chocolate for Optimal Flavor and Quality.Have you ever shipped chocolate? What tips do you have for our readers?
If you enjoyed this article, it would mean so much to us if you shared it with your friends and colleagues!